Reactivity in dogs: Don't panic, here are a few basics
Having a dog can be a great experience filled with shared activities that are fun and enriching for you and your dog. Unfortunately, some of us don't always get to reap these benefits.
If this is something that you experience on a regular basis, chances are you have a reactive dog. In the world of dog behaviour, reactivity means an inappropriate behavioural reaction to an external event or stimulus. The behaviour itself might be normal but the context and/or the intensity of the behaviour is not.
Here's some examples: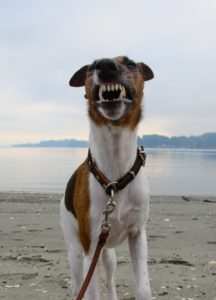 A dog that lunges, snarls and or snaps at a passing dog is showing signs of dog reactivity (this behaviour may or may not occur exclusively on lead).
A dog may also show signs of hyper vigilance, wariness and extreme excitability around things that are loud and unpredictable (like children!). These behaviours can worsen and develop into more proactive dangerous behaviours (active aggression).
Is there a cure for reactivity?
Not really no.
But don't panic! There are several things you can do to manage your dog's reactions and increase their tolerance to triggering events. Your dog reactive dog may never feel comfortable doing a nose-to-nose greeting on a footpath (note: Halo sure isn't!), but you can certainly give them the tools to face things like passing other dogs calmly.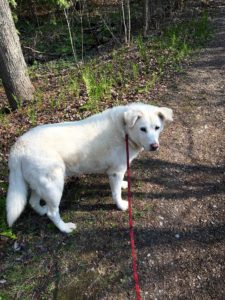 There's a whole ranging of coping skills you can teach your dog and tools you can use. The ultimate success of these strategies will depend in part on your dog's reactivity type, his/her personality and your own dogmanship. Some people may experience success with one method, others might require a combination approach. The key message is to never give up and do what's best for you and your dog. Obviously I can't hash out everything in a single blog post but I'll summarise a few basics below. Look out for more reactivity strategies in future blog posts!
First thing to do: Identify your dog's triggers
If your dog is reactive, the first thing you need to do is to figure out the exact circumstances where your dog displays the inappropriate behaviour.
Is it in response to other dogs on leash? Off leash? Big dogs only? People with hats?
Write each trigger down and it will give you a better picture of the things that push your dog 'over threshold' (the point at which he/she starts to react).
Once you know your triggers you can start to manage your dog's reactivity. Start off by avoiding these triggers as best you can except when you are actively working on management. The best way to manage reactivity is to get your dog to an optimal level of arousal (excitability/energy) and emotional state. You'll get your best results when your dog is at a low arousal level and positive emotional state (i.e. a calm and happy dog). The most commonly advocated way of managing reactivity is through counter conditioning and desensitisation.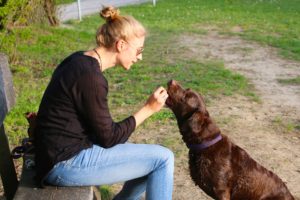 Strategy 1: Counter conditioning and desensitisation
Counter conditioning is working on switching a dog's emotional associations with its triggers (from 'bad things will happen' to 'good things will happen'). This usually involves giving dogs treats in the presence of their triggers. The trick is to introduce the triggering noise/thing at a low enough level that a dog doesn't react to it (this is termed 'under threshold').
For Halo, this meant her being 50m or more away from a strange dog on leash. 'Under threshold' means the dog is attentive to you and not overtly reacting to the stimulus (dogs that aren't barking but are extremely tense and won't pay attention to you are past threshold).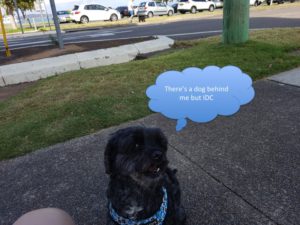 Give your dog a delivery of treats (or other reward depending on your dog, some really value play or toys etc) paired with gentle verbal praise ("good boy" etc etc) while the trigger is present. It is important to deliver treats/other things of valuable continuously until the trigger is completely out of sight/earshot (some triggers are auditory). In time, you increase the dog's exposure (e.g. move closer to another dog while on leash while still giving treats and praise) to the triggers and keep rewarding the dog for not reacting. If you move too fast and your dog becomes anxious, reduce the intensity significantly and then work on building it back up. Ideally, you want to maximise the amount of time your dog is calm and happy during these encounters (try to stay happy and calm yourself- it helps!).
Some people have a tendency to want to get their dogs right next to their trigger on the very first session and are surprised when their dogs get even more stressed. Think of like this: if you developed an intense phobia to water after a shark attack, you wouldn't want someone throwing you in the open ocean. We get over trauma through gentle and controlled exposures to triggers.
There's no harm in getting a professional to help start you out on your reactivity management journey. In fact, a professional behaviorist can help you navigate the potential pitfalls that happen to a lot of owners (like exposing your dog to it's triggers at too high an intensity). If you are at all worried about the safety of you, your dog or others- get help, your dog will thank you for it.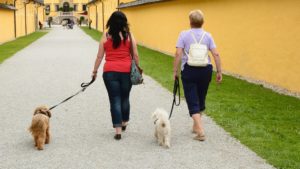 Good luck, managing reactivity is tough but it CAN get better, it did for me!